Climb on the massive walls of the Black Canyon far above the raging Gunnison River
Just a 2 hours country drive south of Aspen lies the north rim of the Black Canyon. This canyon is one of the deepest, steepest and narrowest canyons in North America. The walls of the North Rim host some of the best moderate climbs in the Canyon. Accessed by steep gully descents, sometimes via rappels. We climb up and out of the famed Black Canyon, with the Gunnison river roaring below us, making for a wild, scenic and memorable experience.
Some of the classic Black Canyon IV & below climbs are Maiden Voyage (5.9), Casual Route (5.8), Casually Off Route (5.9), and Leisure Route (5.9 R). A couple of the classic Black Canyon V & above climbs are Journey Home IV (5.9) and the ultra classic Scenic Cruise V (5.10).
The Black has long been a favorite venue for Aspen Expeditions guides' personal climbing adventures. We are very excited to recently add this amazing venue to our guided offerings, right out our back door. Let us introduce you to the adventure of climbing in the Black!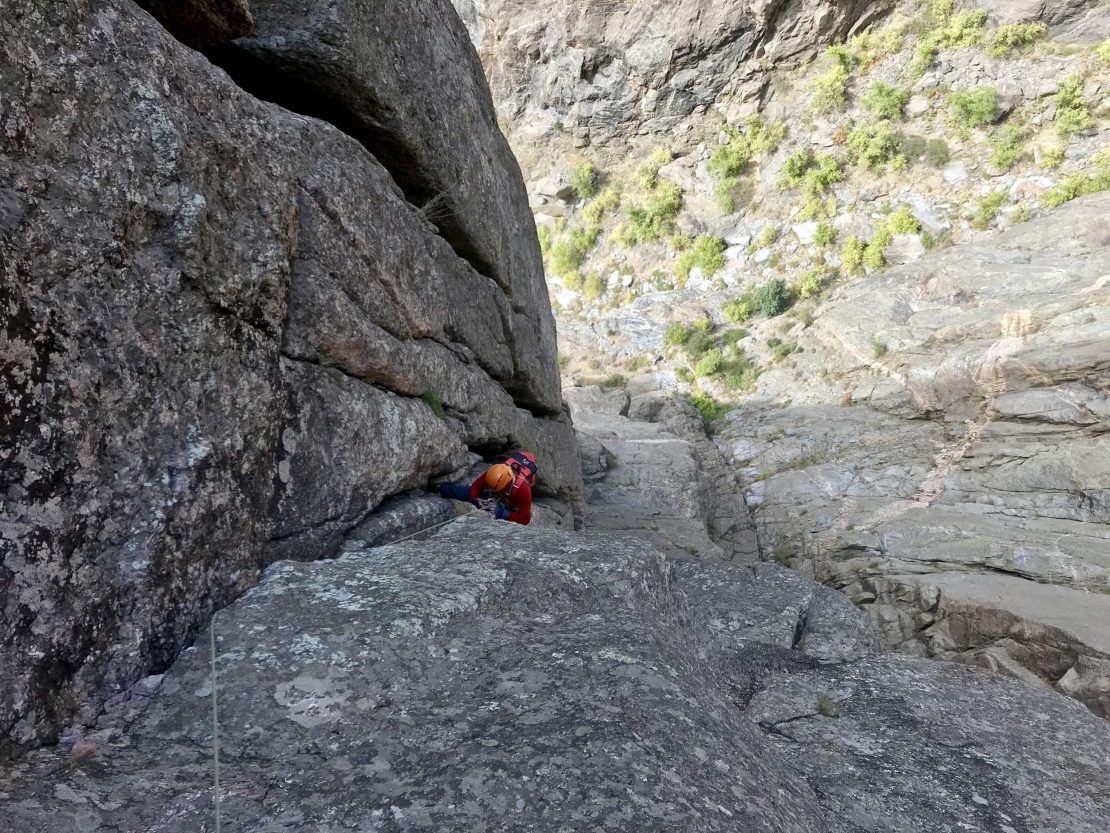 Trip Details
Duration
8 Hours
Difficulty
Some rock climbing experience necessary
Maximum Guide Ratio
2:1
Included
AMGA and AE trained/certified rock climbing guide
All technical equipment (helmet, harness, climbing equipment, ropes, packs, etc.)
Not Included
Lunch/snack food & water
Travel costs
Guide gratuity
Itinerary
Your guide will contact you the day before at the phone number you give us to discuss an appropriate plan for you and to confirm a meeting place and start time. You will go over necessary gear to pack and meal planning.
Explore Other Adventures
Enormous wingate sandstone towers distinguish the Moab area from almost any other desert on earth For climbers, these desert monoliths provide a climbing experience available nowhere else. With an endless amount of Wingate Sandstone walls…
View Trip

: Moab Desert Towers
Aspen Expeditions offers daily custom guided rock climbing and rock climbing instruction in Aspen and the surrounding areas…
View Trip

: Rock Climbing
Our multi-pitch adventure day is the best option for those climbers that want to get up high and climb longer quality routes We offer privately guided multi-pitch climbing daily, on scenic Independence Pass and surrounding…
View Trip

: Multi-Pitch Rock Climbing