Whether Capitol Peak (14,130 ft.) is on your summit's tick list or looms large as a solitary mountaineering goal, this 'Grand Teton' of Colorado beckons
This world-class climb has earned its reputation as one of the most difficult 14er in Colorado, largely due to its' famously exposed 'knife-edge' ridge. Tethered to your AMGA trained/certified alpine guide, you'll be able to enjoy this exciting part of the climb with confidence and safety.
This mountaineering experience takes you into the heart of central Colorado's Elk Mountain Range. After a scenic 7 mile approach, we camp at postcard perfect Capitol Lake. Our pre-dawn approach begins up a well-trodden, steep, loose trail for half a mile up to the 12,500-foot saddle between Capitol and 13,300' Mount Daly. From the saddle, we ascend an endless maze of large boulders to "K2", the highpoint before the knife-edge. This is where we "rope-up" with our clients all the way to the summit and back. The "knife-edge" is a 100-foot-long, horizontal stretch of steep pointed rock. The best technique to cross this section is to grab the apex with your hands and walk your feet along small cracks and ledges. The rock is surprisingly solid here and the views of Capitol Lake below to the North and Pierre Lakes below to the South are breathtaking. You will be able to actually enjoy the views here knowing that you are safely tethered to the mountain and your guide. We then continue to ascend the steep NE Ridge to the summit, favoring the high ridge to stay out of the fray of other climbers.
This climb has 1-day (for only most fit and masochistic), 3-day (easiest on the body), and horse-supported options available through our USFS permitted outfitter partners. Please speak to our office to determine the best fit for you and your party.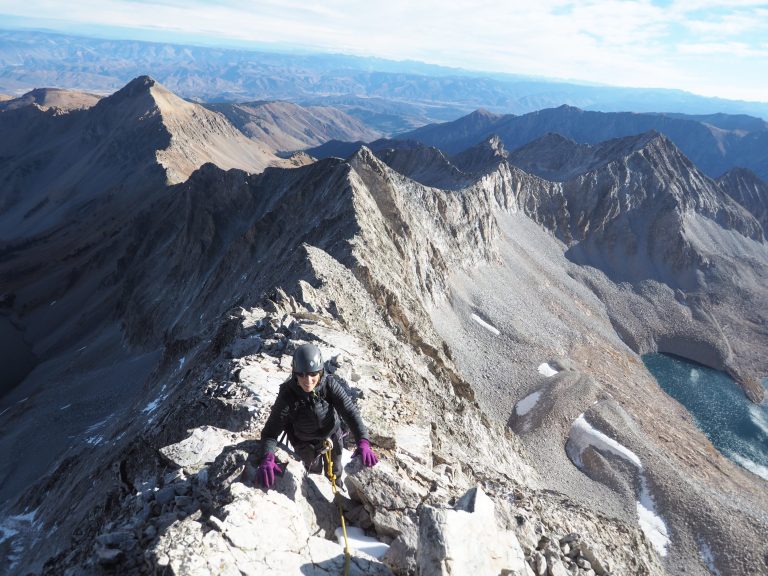 Trip Details
Duration
2 Days, 1 Night
Difficulty
Some alpine climbing experience necessary
Maximum Guide Ratio
2:1
Included
AMGA and AE trained/certified alpine guide
All technical equipment (helmet, harness, climbing equipment, ropes, packs, etc.)
All necessary camping equipment (tents, sleeping bags, pads, backpacks, stove, bowls, plates, cutlery, bear bags etc.)
Not Included
Lunch/snack food & water
Guide gratuity
Trip Itinerary
Your guide will contact you the day before at the phone number you give us to discuss an appropriate plan for you and to confirm a meeting place and start time. You will go over necessary gear to pack and meal planning.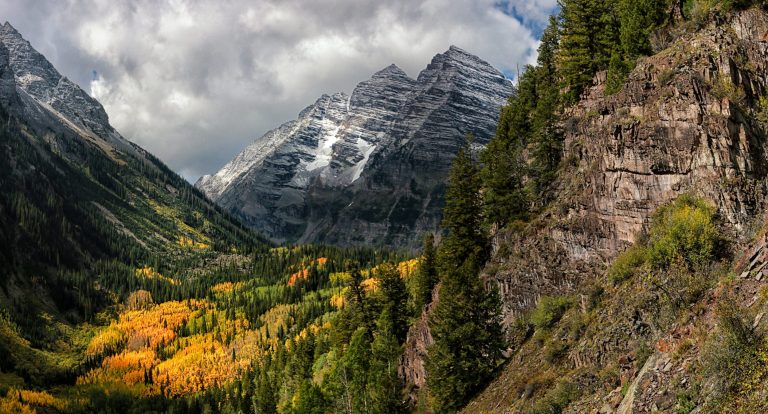 Explore Other Adventures
The South Face Route on Crestone Needle is a high quality class 3 route of the Colorado 14er From a camp at South Colony Lakes this route climbs to Broken Hand Pass where it then…
View Trip

: Crestone Needle
The Maroon Bells Traverse is considered by many to be one of the most difficult and technically challenging traverses from one 14er to another Exposed ridges and ledges connect South Maroon Peak (14,156′) to North…
View Trip

: Maroon Bells Traverse
Pyramid Peak, the closest 14,000 foot summit to downtown Aspen, just happens to be one the Elk Range's most spectacular. The peak is considered a classic in terms of scenery, positioning, difficulty and history. Due…
View Trip

: Pyramid Peak